Virtual Trade Show
A virtual fair presentation transfers conventional trade shows into the digital world. In doing so we design your virtual stand individually and according to your CI. Alternatively, we provide you with a choice of pre-designed but customisable exhibition stands.
The exhibition visitor gets the opportunity to attend the stand in a virtualized environment, totally conveniently using a web browser. Furthermore, a trade fair performance can be followed at anytime from anywhere in the world.
Just as at a real trade show the visitor can explore exhibits and a sales representative can be contacted via chat or video conference
Advantages for exhibitors
Virtual trade fairs have no stand or travel costs. There are also no long preparation and follow-up times. This makes the virtual stand cheaper
The virtual trade fair is available 24/7 and thus increases the potential range
Statistics and key figures that measure the success of a virtual event are available in real time
There are no spatial limitations for the exhibitors due to limited hall capacities
Benefits for visitors
Availability independent of time and location - the knowledge and other content are ideally available 24/7
The often stressful trade fair environment can be avoided. Instead, you lean back and look for the information and people you want to talk to from your laptop, tablet or smartphone
Long queues for exhibits, fixed trade fair dates and overcrowded exhibition halls are no longer necessary
By constantly updating the products, your visitors always stay up to date
Create your virtual room with us entirely free of physical boundaries.
Storytelling with emotion
Every experience needs a good story. The virtual room should be designed with the customer on the basis of the customer's own ideas and our suggestions. This creates a personal atmosphere and allows the customer to participate in the design of his personal space.
Abstract and free designs
Show machine components in a realistic environment, e.g. in a factory, or stage exhibits with a focus on the product without the environment being distracting. Many exhibits can also be experienced in a non-real environment, e.g. an abstract and strange world such as water or space.
Interactive product presentations
We make your products and processes visible to your customers. Let your visitors explore the product features - through 3D animation and interactive exhibits.
Clean and expandable digital solution
Our digital solution is sustainable and can be expanded to include new functions or products at any time. All of the elements integrated and placed on the virtual exhibition stand can of course also be reused in other applications, e.g. an individual showroom.
What can the virtual trade fair do?
Features of the virtual exhibition stand:
At the virtual booth, you can address your customers and prospects regardless of time and place, inform them about new products and create an experience that will stay in your memory.
Whether based on existing CAD data or stand plans or designed by us for you.
High-resolution, pre-rendered 360 ° views enable a virtual tour of the virtual exhibition stand
In a guided tour you can meet your prospective customers at your virtual exhibition stand and explain your product highlights
Stored content such as videos, photos, audio files, 3D exhibits and brochures can be opened and explored via marked hotspots
With the help of an integrated chat function, the personal contact can communicate in writing with his customers and interested parties and answer questions
Present your company, exhibits and portfolio digitally and interactively, with your logo and CI colors
Easily integrate the digital exhibition stand on your website or on existing platforms
Use the latest technology and create a real experience
Invest sustainably and use the created 3D content and animations in other applications in the future
Can be used flexibly in all browsers and optimized for tablets and smartphones
Platform-independent information transfer
High interactivity
Multimedia (texts, images, videos, 3D view, audio files) Fascinating possibilities of augmented and virtual reality
Overview of our services as a download list
Participants visit virtual trade shows independently of place and time.
Since the corona pandemic 2020, trade fairs have shifted to digital.
But which digital functions do our virtual exhibiton stands offer in detail?
Simple and intuitive handling
We set our focus on real conditions - touch, move, look like in a real room.
A good, simple handling does not require an assistant or visual helper to explain the operation at each hotspot.
­­­­Our rooms are self-explanatory and intuitive to use. We try to stay as close to reality as possible and make things easy to touch. This allows the user to discov­­­­er our room in a simple and self-taught way. In this manner, the room remains in the customers memory.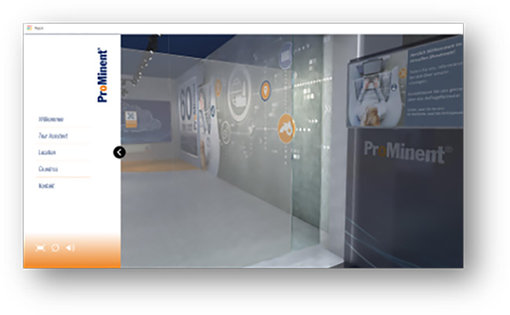 Skin - Desktop
Individualization of the main window to the company branding
Incorporating the company logo
Using the company colors and font, text design and menus according to the customer's wishes

Skin - Mobile
Optimization of skins to mobile version for smartphones and tablets.
Functions are almost identical to the desktop version, but are using icons instead of text.
Pop-up media
Embedding of a product image, a slide show or product videos

Can be displayed with frame and text description

Can be played automatically or on command
3D product representation
Embedding of a supplied 3D model
Representation with embedded viewer, as if you take it in your hand and look at it from all directions
Simple motion animation is possible..
AR rendering is also possible.
Download CAD file
File Download
Any type of file can be offered for download.
(PDF, 3D file - e.g. for AR, photo/video etc.)
Info Window Website
Embed a link within the application, e.g. to external website, product page or forms for registration and requests.
IMPORTANT: User stays within the tour and is not redirected to a new tab or window.
Display with frame and text description.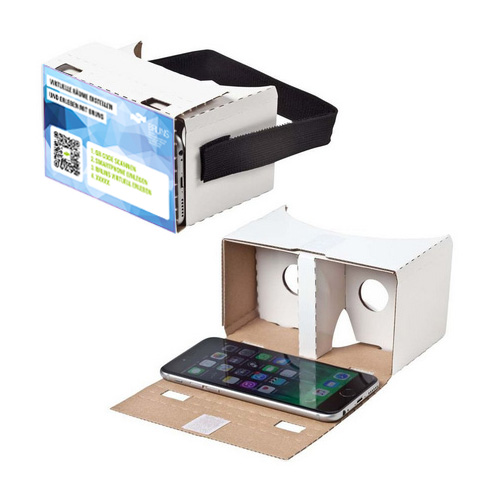 Optimized for VR glasses
Since web-based, the tour can be viewed in VR glasses without any additional software or device.
Distracting features are turned off and only necessary VR features remain on..
The virtual room can be viewed like a real room and experienced fully immersive. Either via VR glasses such as the Oculus Go, or by a foldable cardboard glasses case.
Customers experience virtual space in a playful way.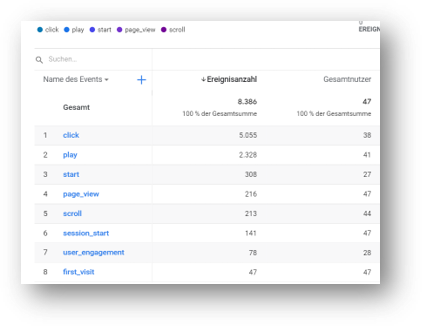 Google Analytics Integration
Analysis of visitor data. Various visitor data can be tracked, e.g. positions in the room.
Also single hotspots/exhibits where the user stayed can be tracked.
Live Guided Tour
Integration of a "Live Guided Tour", visitors can be guided through the virtual space by a video or audio tour operator.
Several visitors can be connected at the same time.
The customer can be guided through the entire room with commentary via video or telephone. Control can be exercised from both sides at any time. For example, the sales department can demonstrate and better explain the functions of its exhibits to the prospective customer live via video call.
Web-based application
The tour runs smoothly in any browser. It does not require any additional software, device or license.
This makes it universally applicable on any PC and Mac - even on older devices, and thus also available to smartphone and tablet users without any problems.
Do I need my own software to play the virtual tour?
No, our virtual tours are web-based, which means they run in all major web browsers. No extra software is needed. A stand-alone version of the tour, i.e. without a browser, e.g. where there is no internet, can also be passed on via a USB stick. This runs completely independently, since everything necessary is on the stick.
Are there any license costs or does the virtual room cost me something monthly?
There are no license or monthly costs for virtual tours at Bruns. However, subscription costs can arise if certain modules are used, such as professional chat widgets, network widgets or guided tours via a relay server. Hosting on a Bruns server would also incur monthly fees.
Can I exchange the content, i.e. media data such as PDFs, videos or photos myself?
Yes - simple content like product images, catalogs as PDF or videos can be exchanged by yourself. The data is located in the Windows folders that are provided with the tour. It is important that the name of the media file is not changed. But everything that can be seen graphically in the virtual space cannot be exchanged by the customer himself, e.g. exhibits. This service is provided only by Bruns.
Why is it better to host the tour on a customer server than at Bruns?
Due to data protection regulations, it is better for the customer to make the tour available on his own servers. This way the customer is responsible for the data protection. However, it is important that he can access Google Analytics tracking data himself without us having to tell him on a regular basis.
Can I see which product was viewed via Google Analytics?
Not yet in the standard version of Google Analytics. There is only to see who, from where, when, with which device was in the virtual space. However, it is possible to create more detailed analysis data as an event. However, this should be set up by a Google Analytics specialist.
What is the benefit of a virtual booth when real trade shows are possible again?
The virtual booth brings further advantages, even if fairs are possible again. For example, the customer can send the VR booth to his customers in advance. These receive pre informations, e.g. over products, partners or what the exhibition booth looks like. After the trade fair, the VR trade fair stand, with the new products, can be sent to customers who did not make it to the trade fair. A virtual edition of the booth would be a unique selling point for exhibitors to distribute to their customers.
What are the lead generation capabilities of the virtual showroom?
Leads can be generated via the chat module, or via a video or phone guided tour. A network module, where customers can communicate with each other, also generates leads. It is also possible to integrate customer forms, such as inquiries about the product or registration forms with email obligation, in order to be able to enter a tour. However, these should come from agencies or from the customer themselves. We can then integrate these external forms into the virtual space.
Take a look at our virtual examples:
Create your virtual room with us entirely free of physical boundaries.