DECO GLAS GmbH
ProWein, Düsseldorf
BRUNS designed a new stand concept for DECO GLAS, a leader in the refinement of glass packaging.
The aim was to increase the emotional appeal of the target groups, with a focus on the added value generated by glass refinement for customers in the B2B business.
Acquiring new customers, maintaining existing customers, cultivating images, increasing DECO GLAS' brand awareness and presenting new product developments were the aims of the fair.
In the stand center, a round innovation point with an oversized bottle attracted attention. Here, visitors were able to find out about processing technologies in the field of glass design. Colored showcases on the back of the stand in the logo colors set a strong accent and acted as an eye-catcher. The atmosphere of well-being desired by DECO GLAS was taken into account with the use of natural materials such as table, bar and floor covering made of oak or natural ropes above the bar. A barista was specially hired for the customer service.
The colored Showcases on the back of the stand
highlighted the bottles.
First ideas and sketches of the exhibition stand for DECO GLAS are created by hand drawings. On this basis, the concept was further developed.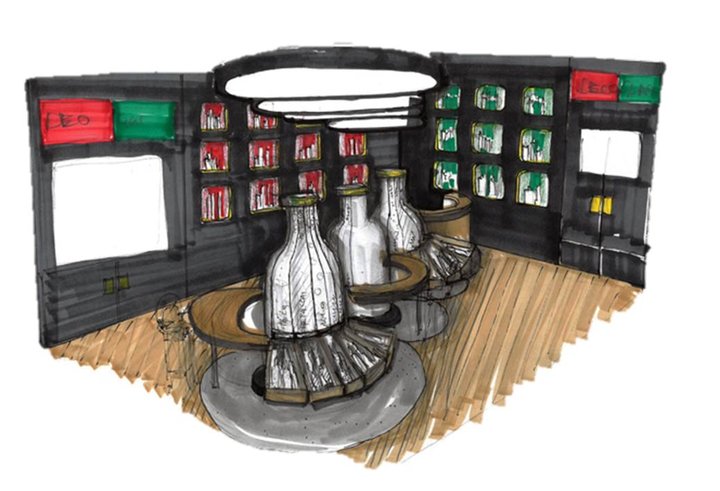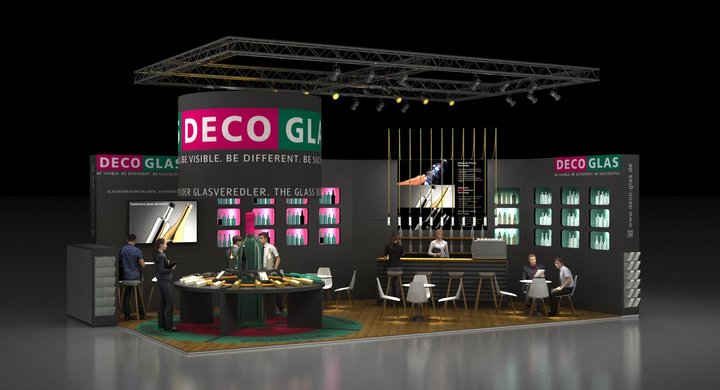 On the basis of the hand sketches, the first CAD visualizations are created.